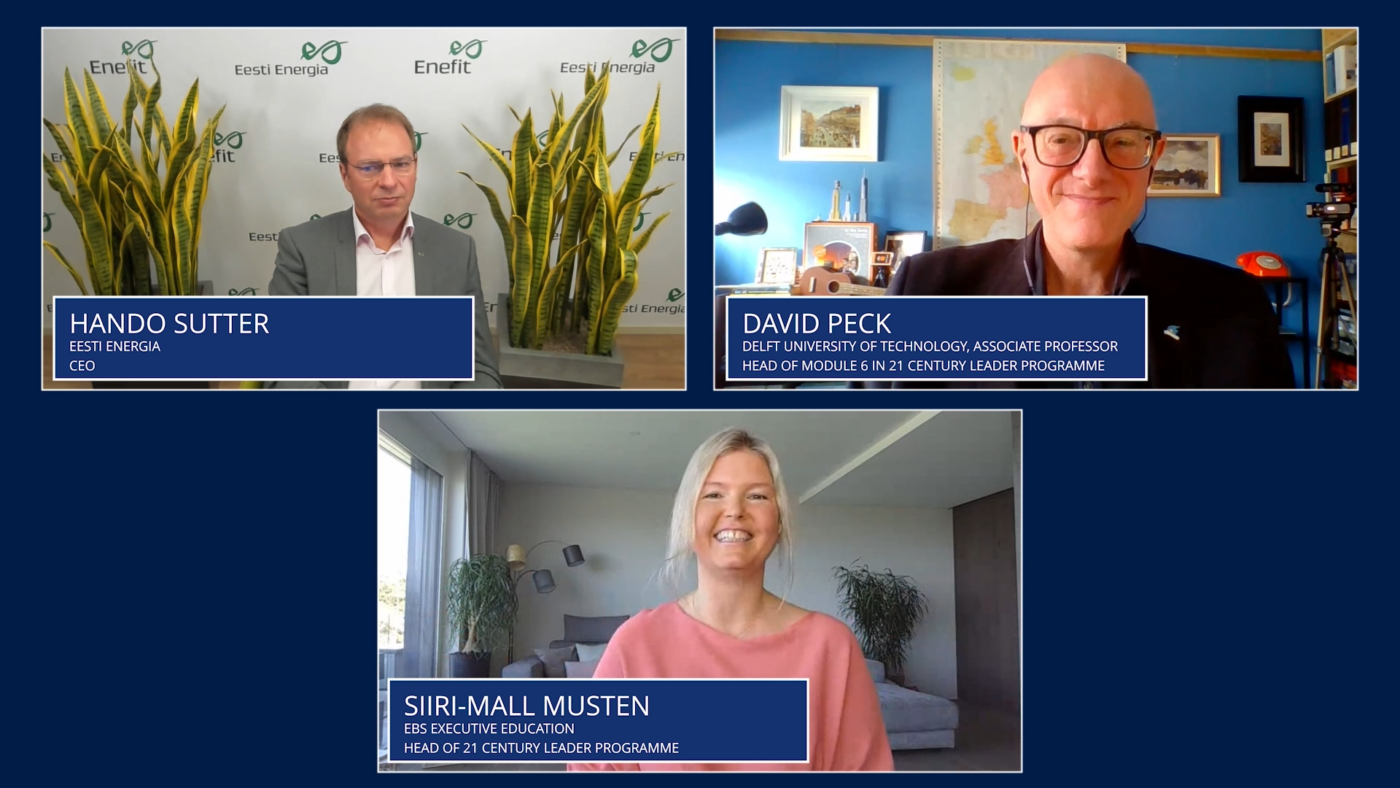 Can a circular business be profitable? If so, why have we been talking about it for the last 30 years yet without putting it into action? What knowledge do today's top managers lack and what needs to change? David Peck, Professor at Delft University of Technology, and Hando Sutter, CEO of Eesti Energia, provide answers to these and many other questions in EBS podcast. The conversation is moderated by Siiri Mall Musten, Head of programme "21 century leader" design at EBS.
Siiri Mall Musten states that a business model based on a circular economy is not merely vague future-talk; "Economic performance and saving the planet – there is no contradiction here. New digital, physical and biological technologies already enable sustainable business models. If you are a top manager who chooses not to use these opportunities, then tomorrow a competitor will come along and take that opportunity," says Musten.
Delft University of Technology Professor David Peck states that solutions that are designed today are intended for the next 100 years, such as solar panels and wind energy. According to him, the return must be viewed in a completely different time frame: "Until now, we were used to a linear fossil fuel-based economy: you sell oil, and you get turnover. In light of the war in Ukraine, this way of thinking is changing, but it would have changed anyway." According to Peck, the question now is how we will do business in the future if we do not buy cheap fossil fuels. What will our buildings and cities look like; how will we live, travel and work?

Global change happens when consumers demand it. This is what Hando Sutter, CEO of Eesti Energia, believes. He adds: "If consumers demand green energy, it must be produced. If consumers ask what materials were used to assemble a product, there must be an answer. This change is taking place, the consumer is becoming more aware and demanding and vice versa – it is not possible to save the planet if society does not want it or if people are not involved in making the change."

Musten, Peck and Sutter will discuss all of these topics in more detail in EBS podcast, which you can look and listen HERE. Happy listening!
To get more information on the transformational 21 century leader programme, please click HERE.