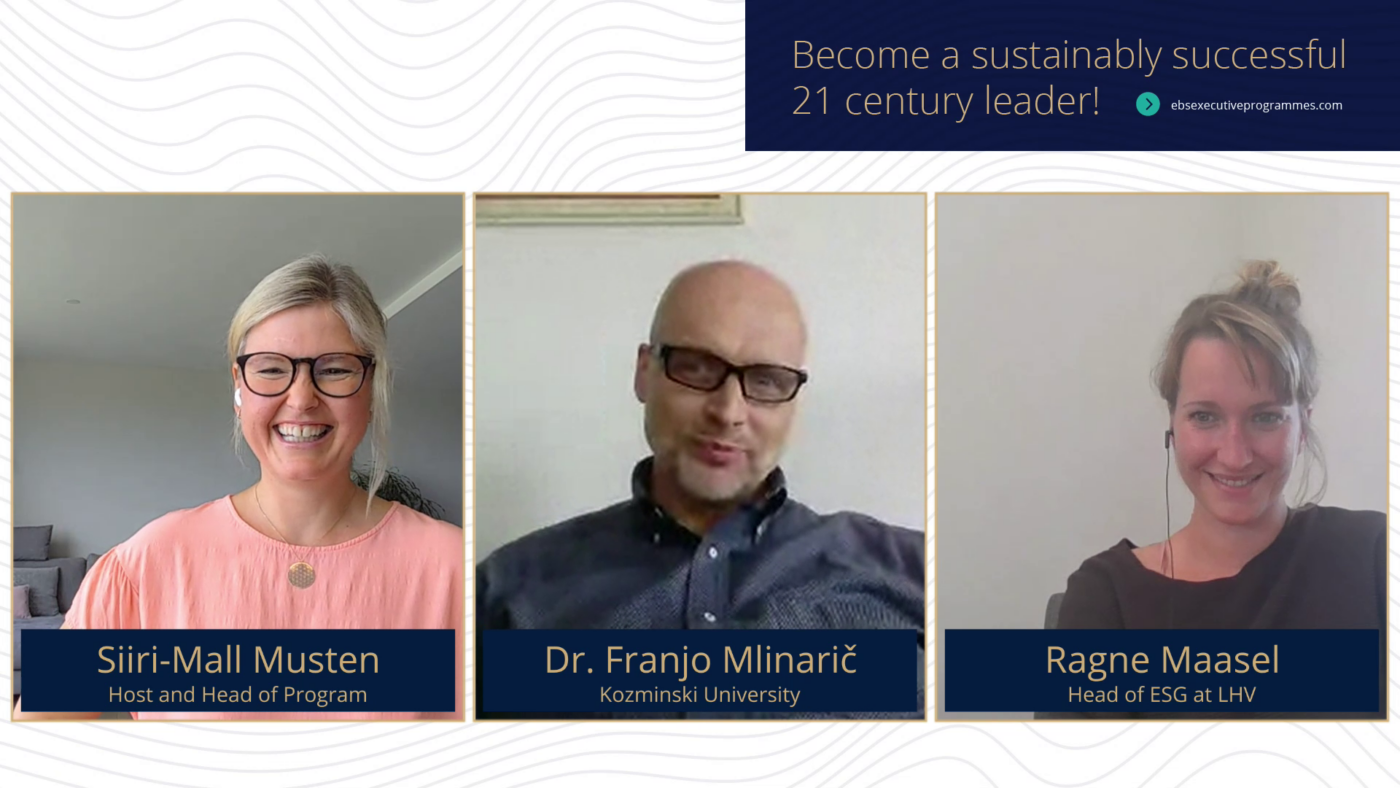 Today, customers, financiers and governments expect to manage companies in a way which respects the planet and society. The sustainability of companies is regulated both internationally and at the level of the European Union, customers increasingly want to know how the production process is structured, and CEOs are expected to have knowledge of circular management and the right mindset. Professor Franjo Mlinarič from Kozminski University, Ragne Maasel, Head of Environmental, Social and Corporate Affairs (ESG) at LHV Bank, and Siiri-Mall Musten, Head of Executive Education leadership programme 21 century leader, will exchange views on these topics.
Professor Franjo Mlinarič from Kozminski University, which is considered by the Financial Times to be the best business school in Central and Eastern Europe, says that a change in business strategy is a major challenge for many companies and that development is still in its infancy. "At the same time, there is an increasing distinction between environmentally friendly and environmentally hostile companies, and there is also clear pressure from customers. If you wait too long, it will be too late. Adapting to new challenges in the economy is nothing new. We can't talk about a new economy, management is still the same, it just has to be taken to the next level," he noted.
Siiri-Mall Musten, Head of 21 century leader programme, also confirms that many companies continue to focus on traditional management. But do we have time? Musten believes that we do not. "New standards are being set for companies, which they must meet at the level of the European Union, internationally and by financiers. There is an increasing demand for readiness and corresponding certificates. This is not just a matter for large companies, but also for small and medium – sized companies to change their management and mindset," adds Musten.
Ragne Maasel, who is responsible for sustainable management at LHV Bank, says that in 5-10 years, financing a company can be nothing else than a green financing. "The focus is on the future," says Maasel. At the same time, she confirms that it all starts with the top management having the knowledge and skills to bring the change into reality. "To be afraid and scared is human. But at the end of the day, everything comes down to knowledge, ability and way of thinking. The thought that I don't have time for that, I have to make a profit, means you're losing opportunities. I am asked a lot about what needs to be done. But the question is not what to do, but how to do it. The leader must have a goal and fully own this goal, sustainable management is not something to be channeled downstream. "
If this topic is of more interest to you, listen to the full discussion on EBS's full-length webinar recording HERE. Happy listening!